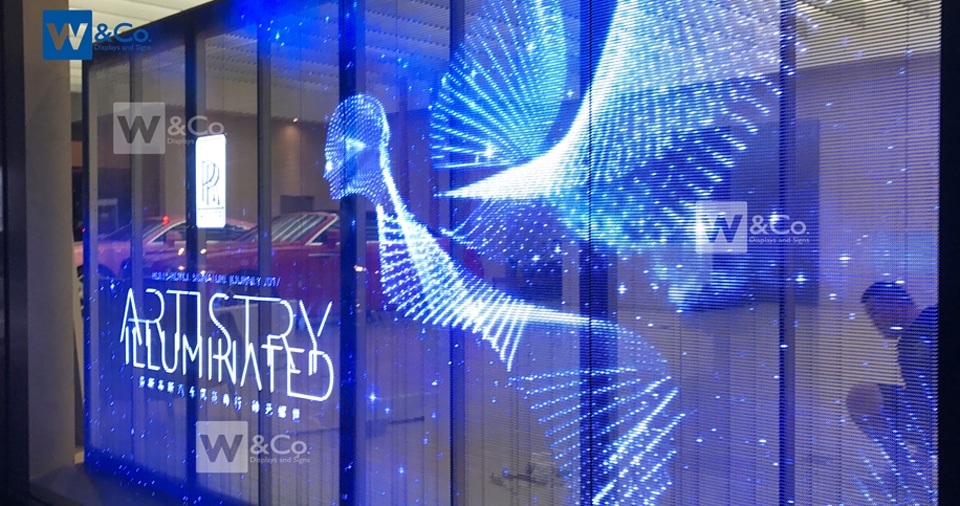 See-Through LED Digital Mesh
Mesh of LED pixels
Transparency of up to 93%
High Brightness Sunlight Readable LEDs
Custom sizes with Modules
Easy to Install
Lightweight and Compact
Simple and Sleek design
See-Through LED Digital Mesh is an innovative digital signage solution which grabs attention with its matrix of LED pixels that show high brightness moving images while at the same time allowing customers to see through to your shop or showroom.
The transparent digital mesh's very simple and sleek design means it takes up very little space and coupled with its sunlight readable high brightness LEDs it is perfect for window advertising.
With its transparency of up to 93% the LED Digital Mesh offers a unique way to advertise by allowing natural sunlight through the digital display it does not affect the lighting inside yet you are able to deliver highly effective advertising to passersby outside.
The LED digital mesh displays are supplied in modules enabling you to build the display to your chosen size by adding modules as required. W&Co can manufacture the modules in various sizes of your choice and thanks to its lightweight and compact design, the See-Through Digital Mesh can be easily assembled and disassembled if required.
The See-Through Digital Mesh can also be supplied with varying options of pixel pitches, enabling you to obtain the best resolution to suit your budget.
Delivering high brightness of 6000cd/m² and high resolution commercial displays, the digital mesh is made to be seen 24/7, 365 days a year! These panels are supplied with energy efficient and long lasting LEDs which can be easily replaced thus extending the life of the whole module.
Customer Reviews
Ford '...we were delighted with the product and service you offered us.'
You might also be interested in these related products
What to do next?