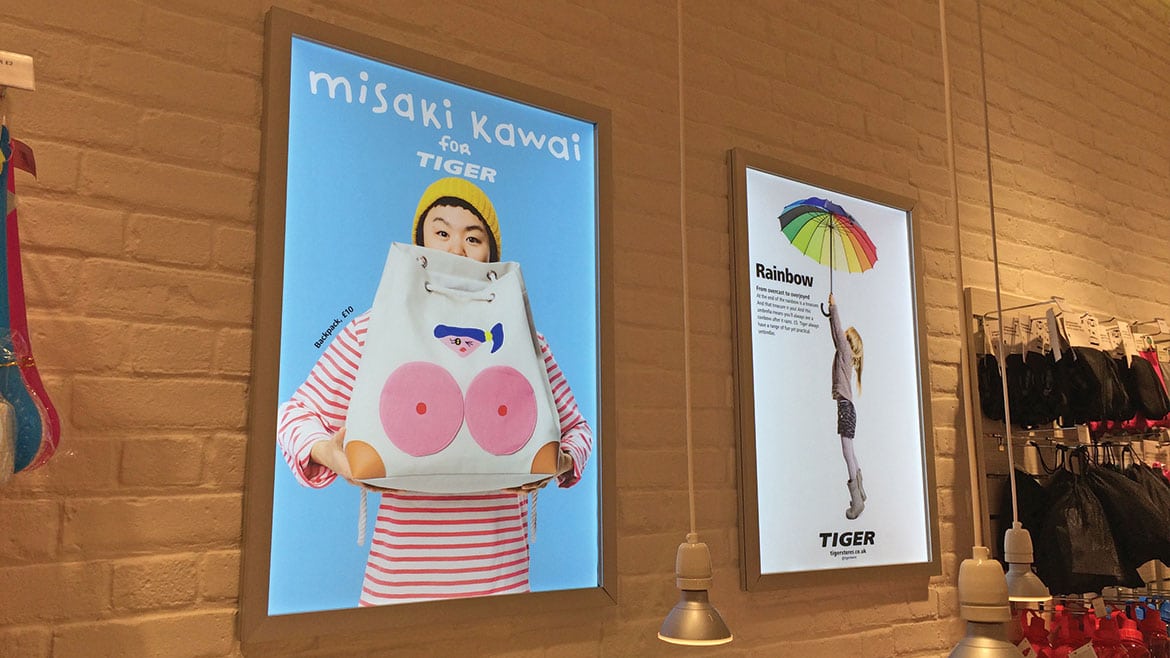 Razor Premium Snap Frame LED Lightbox
Ultra slim - only 26mm deep.
Superior bright & even illumination.
Illuminated with high bright LED light panel.
Easy graphic change via 32mm snap frame.
Robust aluminium profiles.
Flat, Soft-Curve or Tamper Resistant snap frame options.
A0, A1, A2 & A3 poster sizes in stock.
Bespoke sizes made to order.
The Razor LED light box is a premium snap frame poster display light box for promotional posters and display graphics, with all round superiority over rival slim snap frame LED light boxes, particularly in relation to its higher brightness, more even illumination and better build quality. This is why is the Razor snap frame LED lightbox has been selected by prestigious clients including IMAX cinemas, Waitrose and The Body Shop to name but a few.
At only 26mm deep single sided (or 39mm deep double sided), Razor LED light boxes are essentially illuminated poster frames and can fit neatly to any wall taking up minimal space. The Razor light box can be produced as thin as this because it uses a strip of high brightness LED lights which side illuminates a panel of pure clear acrylic specially developed for lighting applications (with no engraved lines to show through the print). The LED lights used emit such a high bright light that it gives the Razor light box the brightest and most even light distribution available from any LED light panel illuminated light box.
For quick and easy graphic change, Razor LED light boxes have a 32mm aluminium snap frame profile on the front and these snap frames come with three profile options: the classic soft-curve frame; the contemporary flat frame and the curved tamper resistant frame. All the light box profiles come in a silver anodised aluminium finish as standard or can be powder coated to your choice of RAL colours.
All our Razor LED light boxes are manufactured to the highest quality within Europe (CE certified) using top grade aluminium; clear acrylic panels specially developed for lighting applications; and branded, highly efficient electrical components, including long life, high brightness and energy efficient LEDs.
Razor light boxes are available from stock in standard poster sizes (A3, A2, A1 & A0) or they can be custom made to specific sizes up to a 6-sheet poster size (1800 x 1200mm).
Customer Reviews
Ford '...we were delighted with the product and service you offered us.'
You might also be interested in these related products
What to do next?