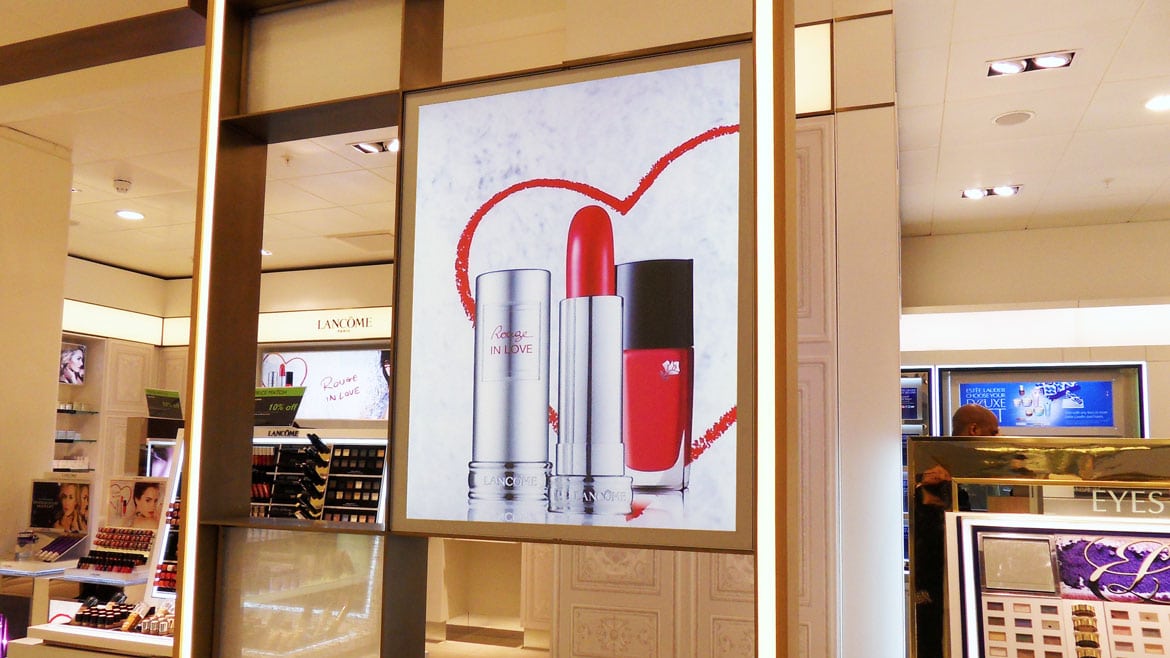 Tanto Ultra Slim LED Lightbox
Ultra slim at only 24mm deep.
Easy graphic change via magnetic lift-off front panel.
Superior bright & even LED illumination.
Illuminated with high bright LED light panel.
Can be completely recessed.
Robust aluminium profiles.
A0, A1, A2, A3, A4 and custom sizes.
The Tanto ultra slim LED light box is a premium poster display light box and at only 24mm deep it is not only very sleek, with high brightness, even illumination and high build quality, but it also comes with some unique beneficial features. This is the reason why the Tanto LED light box has been selected by John Lewis to be used in their Premium Beauty departments.
The first unique benefit of the Tanto LED light box is that it has a very quick and easy graphic change thanks to its removable front cover with a magnetic border. This front cover is a 1mm thick sheet of clear UV resistant antiglare polycarbonate and the border has magnetic tape on the inside which attaches to steel tape on the light box profile.
Another advantage of the light box is that the cover fits onto the fascia from edge-to-edge, which means that the light box has a completely continuous flat face making it perfect for recessing.
There is a coloured border around the edges of the front cover to conceal the magnetic tape from the front to give a smart finish to the light box. The light box and border come in silver as standard, but can also be supplied in various colours to suit your requirements.
Tanto ultra slim LED light boxes are illuminated with high bright LED light panel (with no engraved lines to show through the print) which offers bright and even light distribution across the whole graphic area.
Customer Reviews
Ford '...we were delighted with the product and service you offered us.'
You might also be interested in these related products
What to do next?