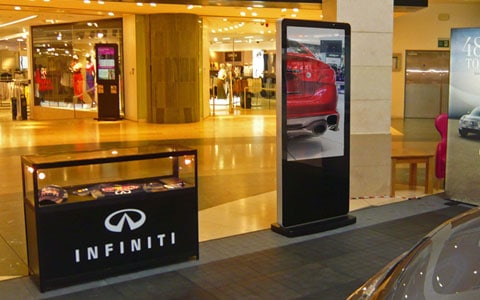 'Vision' Freestanding LCD Digital Screens
High Definition Screen 1080x1920 – 1080p
Bright Display 450cd/m2
Wide Viewing Angle - 178°
User Friendly Plug & Play via USB
24/7 Usage Commercial Grade Panel
Long lifetime - 70,000 Hours No Loss of Quality
Super Slim & Stylish Tablet Design
Retractable Integrated Castors
Free Scheduling Software
Optional Network Upgrade (LAN/Wi-Fi)
Touch Screen Options Available
3 Year Warranty & Lifetime Technical Support
Our Vision indoor freestanding digital signage displays are the perfect digital solution for shopping mall windows, hotel lobbies, marketing suites and exhibition events.
With a super wide 178 degree viewing angle and LED backlight, the Vision is made to shine brighter than any television whilst still delivering high quality images. Designed to resemble a giant Smartphone these screens are designed to be seen!
The large but portable freestanding display units come in 50" and 55" and feature the same high grade commercial screen and modern, slim-line design as the wall mounted versions.
The integrated Android Media Player allows for super fast updates, screens can be used as a Plug & Play solution in locations without network access or otherwise upgraded for operation via our CMS (Cloud Management System) MySignagePortal. With no external buttons you are able to avoid tampering and control your Vision wirelessly and update from anywhere in the world!
Customer Reviews
Ford '...we were delighted with the product and service you offered us.'
You might also be interested in these related products
What to do next?