Five Industries Capitalising on Digital Signage (and some that aren't)
As a digital advertising solution, digital signage allows business owners to market their products/services and communicate messages in a more interactive and entertaining way. It's also an inexpensive and environment-friendly medium compared to printing new signage every time you need it.
In fact, according to Global Market Insights, the digital signage industry is on its way to exceeding $23 billion (£18 billion) by 2023. Research also shows that digital signage capture 400% more views than static signs and, in UK, more than 80% of retailers credit digital signage in generating brand awareness.
In this article, we want to look at five industries capitalising on the digital signage revolution.
1. Restaurants
In the restaurant world, capturing eyeballs is a vital marketing tactic, be it for menu boards, information boards, or creative displays. Digital signage entice potential diners and help them easily peruse your offers.
In fact, study shows that 30% of restaurant customers find eye-catching menus influential in their purchase decisions.
Food establishments benefit greatly by:
Changing menus with just a few button clicks, especially for those who offer a variety of choices for breakfast, lunch, and/or dinner. No more putting up and taking down cardboard displays every shift end.
Magnifying food images in high definition to make them look more appetizing, as opposed to those drawn on static boards. Owners can also leverage this to market an underperforming product or introduce a new one.
Installing a creative display (e.g. a flickering fireplace on a wall) to enhance the ambience of the dining area.
Incorporating branding elements like logos and company colours for better brand recall.
Establishing a strong relationship with customers, thanks to engaging (and sometimes interactive) visuals.
Pizza Hut's interactive tabletop has been around for years and lets customers customise their own pizza, from base, sauce, toppings, to sides. They only need to drag and drop their choices.
Apart from the 'cool' factor and its interactivity, this signage also works since it gave customers the security that their pizzas will come out the way they want to.
2. Clothing Retailers
It's nigh impossible to market fashion brands without investing in the visuals. Customers need to see the product in multiple angles, sizes, and colours. Since retail is one of the first industries to embrace this technology, more and more clothing boutiques are replacing their faceless mannequins to display their products.
Burberry, in fact, is one of the earliest adopters. In 2012, they launched their interactive flagship store in London, equipped with mirrors that double as screens, iPad-holding staff, and RFID capabilities.
Burberry interactive store. Source: www.vogue.co.uk
Digital signage have the capability to show how each piece of clothing would look on an actual person. Instead of a static mannequin, customers can see how a dress, for instance, moves in real-life situations.
There are also a number of retailers who combine digital displays with beacon technology, so they can easily send promotional materials to customers.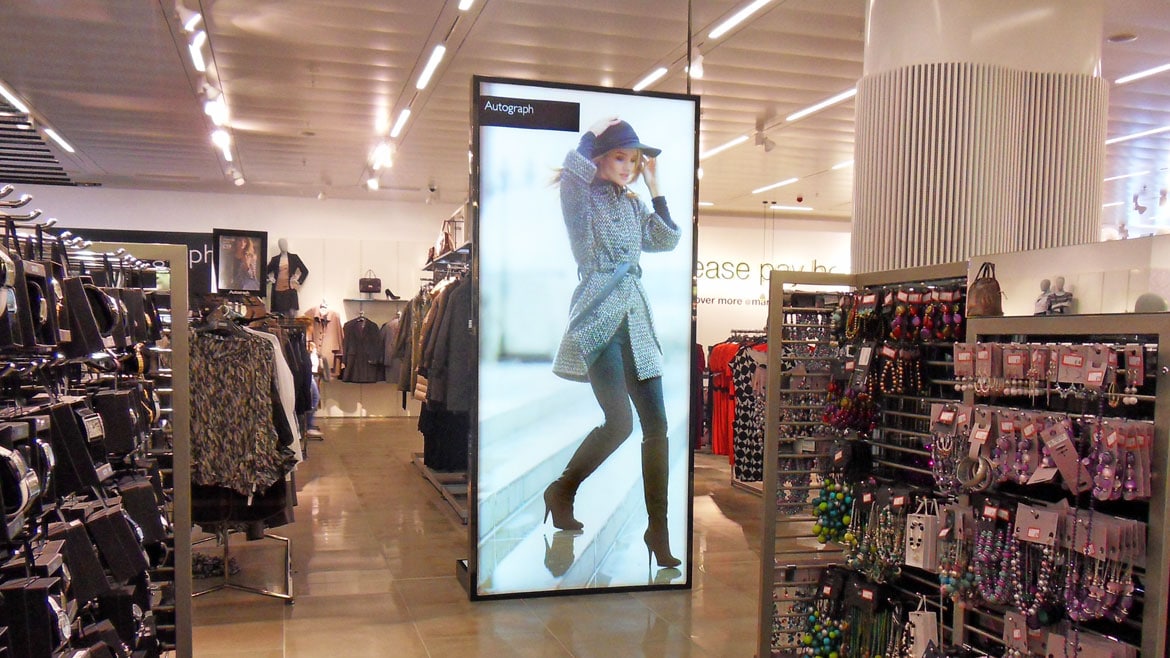 A high-quality fabric face LED light box for Marks & Spencer, supplied by W&Co
3. Airlines and Airports
It's vital for airports to keep to a schedule, as delays have a cascading effect to individuals and businesses. From carparks to tarmacs, digital signage have helped this industry better manage various touch points in a customer's journey, making airports one of the top enterprises to employ this technology.
These visual displays foster better and more efficient communication to customers when used for directories, wayfinding, passenger information, gate information, baggage information, and flight information.
Airports also reduce perceived wait time when displays in strategic areas (e.g. retail shops, bars/restaurants, waiting areas) play entertaining and informative content. You will often see weather updates, news, or sports streaming in these signage, which, in turn, help reduce stress in passengers.
An illuminated sign created by W&Co for British Airway's new customer service desk.
4. Tech stores
Tech stores need to be ahead of the curve, given the industry they are in. An entire store needs to exude modernity, as the latest smartphone or laptop will lose its appeal when juxtaposed next to a poster board sign.
In fact, studies show that 8 out 10 customers entered a store because a sign caught their interest. Digital signage can help provide product specs, advertise upcoming gadgets, or provide a high-end look and feel to the entire store.
Take, for instance, Apple's patented LED video wall. In their bid to produce the 'next generation' store, the tech giant overhauled its Memphis branch and installed a 37-foot TV display. This almost floor-to-ceiling display is said to cost $1.5 million (£1.18 million).
5. Hospitality
In the hospitality industry, digital signage provide vital information to clientele when installed in key areas.
Some hotels use interactive or LED screens as virtual concierge, which displays daily events, weather forecasts, and hotel amenities, among others. There are also menu guides for in-house restaurants or wayfinding features for conference attendees.
Similar to airports, digital signage can also entertain those who are sitting in waiting areas to decrease perceived waiting time. Hoteliers can then update or change information, as needed.
Hotel Indigo created an innovative way to provide information to their guests via the Neighborhood Guide, an interconnected touchscreen display installed in all 55 Hotel Indigo lobbies.
It details an overview of each hotel, restaurants in the area, as well as hidden and favourite attractions, among others. The best part is that all of this information was collated from the hotel's staff--all of whom are locals who have ample knowledge of their areas.
Industries that are not using Digital Signage (but should be)
While other industries fully embrace digital signage, plenty more would benefit from it, including:
1. Education Sector
With Gen Z's greater dependence on technology, large digital displays can enhance the learning process. Interactive materials can easily turn boring topics into a fun discussion.
Messages from school owners can reach a wider audience in an effective and cost-efficient way. Instead of printing multiple leaflets (which not everyone receives but would continue to drain your budget), you can install displays where your target audience will see them (e.g. auditorium, lobbies, theaters, etc).
2. Public Institutions
Public institutions (e.g. government offices, museums, hospitals, stations, etc.) grow more crowded by the day, which makes communicating difficult. Digital signage will help governments assist and inform the public by providing screens where vital information is always displayed and updated (e.g. directions, facility and office locations, etc.).
As further proof that the public sector needs this, visual displays can also help the ongoing battle against fake news and misinformation. With digital signage, authorities can display one consistent message posted across all visual displays. The same goes for internal communication.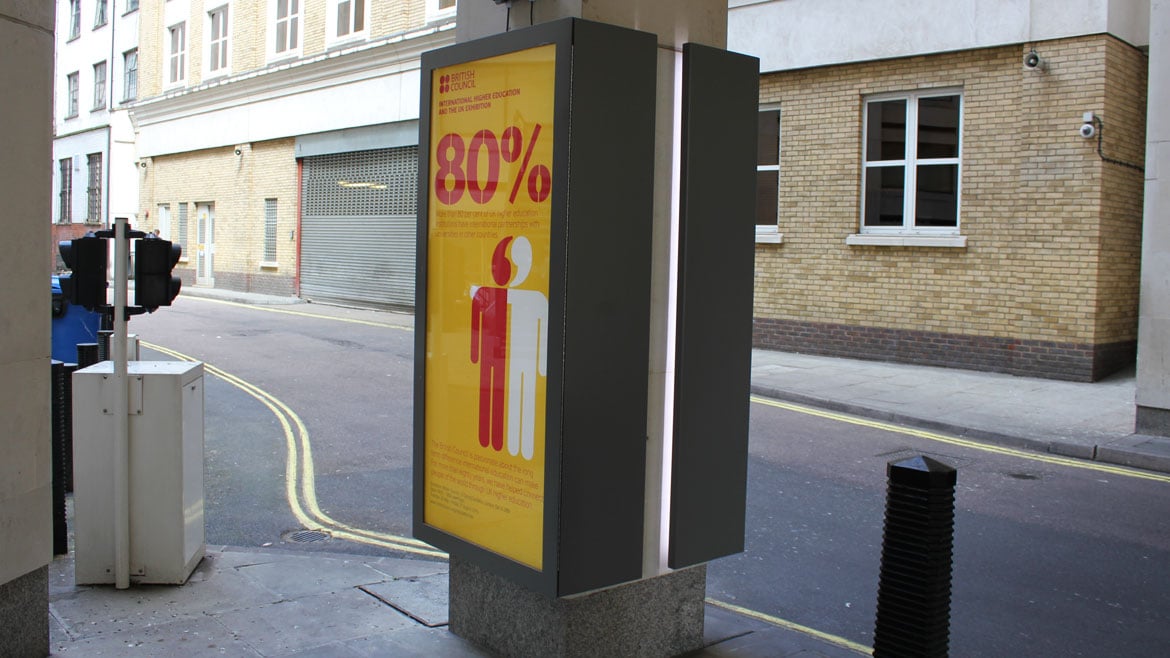 LED illuminated poster for the British Council's HQ, provided by W&Co.
3. Facility Management
Given the government's smart city initiative, digital signage can help the authorities better manage public services. It's all about helping people, be it for wayfinding, transportation schedules, city services, emergency messages, parking lot availability, or relevant advertising.
There is great potential in this space, especially if citizens can conveniently access these information via their smartphones. It can even help curb crime by displaying security alerts in strategic places.
Elevate Your Messaging
Your creativity is your only limitation when it comes to this visual medium. Be it LED touchscreens, high-definition TVs, or interactive displays, you can move away from static, boring whiteboards to signage that will bring more customers to your doors.
To get started on having your own display, contact our team of experts via email at [email protected] or call us at 01708 86 32 60.
Can't find what you're looking for? Please call us as we can find solutions to 99% of all printing, display, sign, feature lighting & digital signage enquiries.