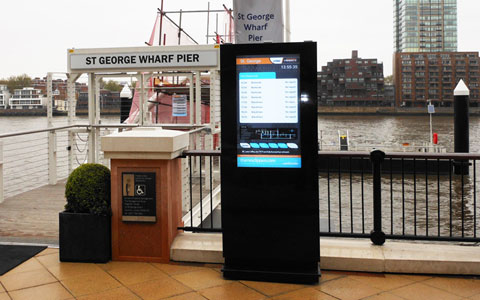 'Aura' Outdoor Freestanding Digital Screens
High Brightness Sunlight Readable (2500cd/m2)
High Definition Screen 1080x1920 – 1080p
Wide Viewing Angle - 178°
Vandal & Weather Resistant Enclosure (IP65)
Anti-Reflective Glass
Smart Temperature Control with Air-Con
24/7 Usage Commercial Grade Panel
Freestanding (Ground Fixed)
User Friendly Plug & Play via USB
Optional Network & Touch Screen Upgrade
3 Year Warranty & Lifetime Technical Support
The Aura freestanding outdoor digital signage screen boasts a high-bright display, at 2500cd/m2, creating the optimal eye-catching digital screen for advertising in public spaces, such as airports, shopping centres, high streets and exhibition arenas.
These outdoor screens are more than 8 times brighter than a standard LCD panel to allow easy readability in direct sunlight. They also have a built in ambient light sensor to adjust the brightness to the surroundings accordingly, so they're never too bright or too dim.
The Aura outdoor digital signage screen is made for use 24/7, 365 days a year. It has a sturdy screen enclosure is manufactured from mild steel and is faced with anti-glare and scratch resistant toughened glass for protection and safety against potential vandalism. The casing of the display is also coated in a special enamel paint that is extremely hard wearing to improve the overall durability.
With an IP65 rating the digital screen is protected from the wet and is dust tight, making the Aura built to last outdoors in all weather conditions.
On top of this the digital display enclosures have smart temperature control, which means they are able to withstand hot and cold surroundings. They can do this as they are able to manage their own internal conditions with built in air-conditioning system. This means the units can work at an optimal level in any climate, therefore, maximising their life expectancy.
The screen offers easy maintenance as it is designed to allow for easy and quick access using hydraulic cylinders to lift up the front cover if maintenance is required while still being safe and secure.
For peace of mind we supply a 3 year warranty as well as lifetime technical support as standard.
The standard screen sizes available from stock are 49" and 55", however, you can also order 43", 65", 75" and 84" screens to best suit your requirements.
You can also have a removable base so you have the option of a more streamline appearance to the screen casing if you choose. There are also options to modify the Aura with additional network features, touch screen or even a built-in camera. You can also easily update your screen via a simple plug and play USB method or you can connect them to a network via LAN, Wi-Fi or 3G allowing you to update your screen content from anywhere in the world!
Customer Reviews
Ford '...we were delighted with the product and service you offered us.'
You might also be interested in these related products
What to do next?