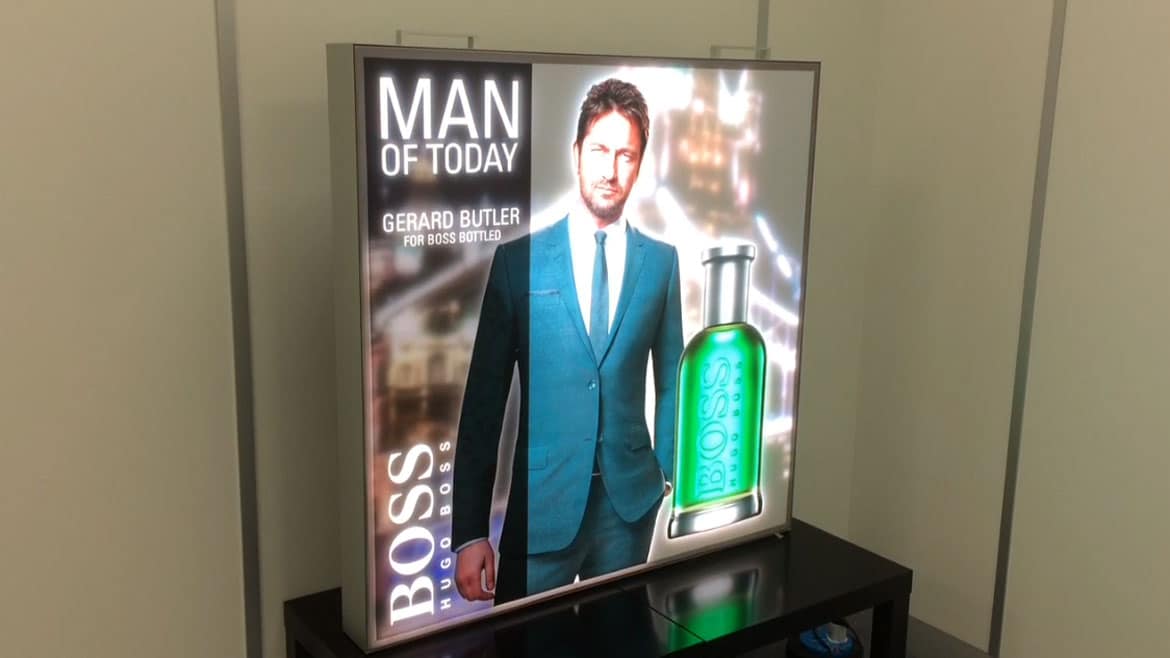 DigiMax Print Animation LED Lightbox
Combines high resolution print and moving images.
Bright and even edge-to-edge backlit LED illumination.
Can be made to large bespoke sizes.
Easy Change Print and LED animation sequencing.
Can be wall mounted, recessed or freestanding.
More economical than standard digital signage.
Custom shapes possible.
Soft or hard fascia.
Indoor or Outdoor.
The DigiMax Print Animation LED Lightbox is a completely new and innovative advertising system that really grabs the attention of potential customers with its combination of sharp high resolution static backlit print and moving digital images.
It works by utilising one of our display lightboxes (tension fabric or acrylic faced) with a standard backlit print fitted (fabric or film), but then instead of illuminating with static white LEDs, we use high brightness programmable RGB LEDs.
Each LED is like a pixel of a digital screen, however, the number of LEDs required in the DigiMax Lightbox is less as the screen in this case is essentially the backlit print which has the light and colour from the LEDs projected on it without shadowing, lines or gaps.
Due to the lower number of LEDs required the colour animation and moving video effects can be realised at a considerably lower cost than using standard digital signage screens. Various pixel pitches are available so different sharpness of moving image can be obtained; the softer the image, the less LEDs used and the lower the cost.
DigiMax Print Animation LED Lightboxes can also be produced at different levels of brightness to accommodate indoor or outdoor applications. They can also be made to large bespoke sizes as one continuous graphic without bars or seams in the picture like a typical Video Wall may have.
This groundbreaking technology ultimately creates a promotional medium somewhere between a light box and a digital screen but with the benefits of both.
Customer Reviews
Ford '...we were delighted with the product and service you offered us.'
You might also be interested in these related products
What to do next?