Digital Signage
W&Co supplies high quality custom made digital signage screen solutions that truly work for your specific advertising and promotional requirements. Whether it be for indoor or outdoor digital screens, small format digital menu boards or super large format LED digital video wall displays we can supply, install, manage and maintain everything for you.
As well as our bespoke offerings we stock a wide range of standard freestanding and wall mounted, indoor and outdoor, digital signage screens for immediate delivery.
What are Digital Signage Screens
Digital signage displays enable targeted advertising and promotional messages to consumers via moving digital images (or slides) on a digital LCD or LED screen. The digital content can be frequently and easily managed and updated either directly to the digital signage screen or remotely through a local network or the internet.
Why use Digital Signage Screens from W&Co?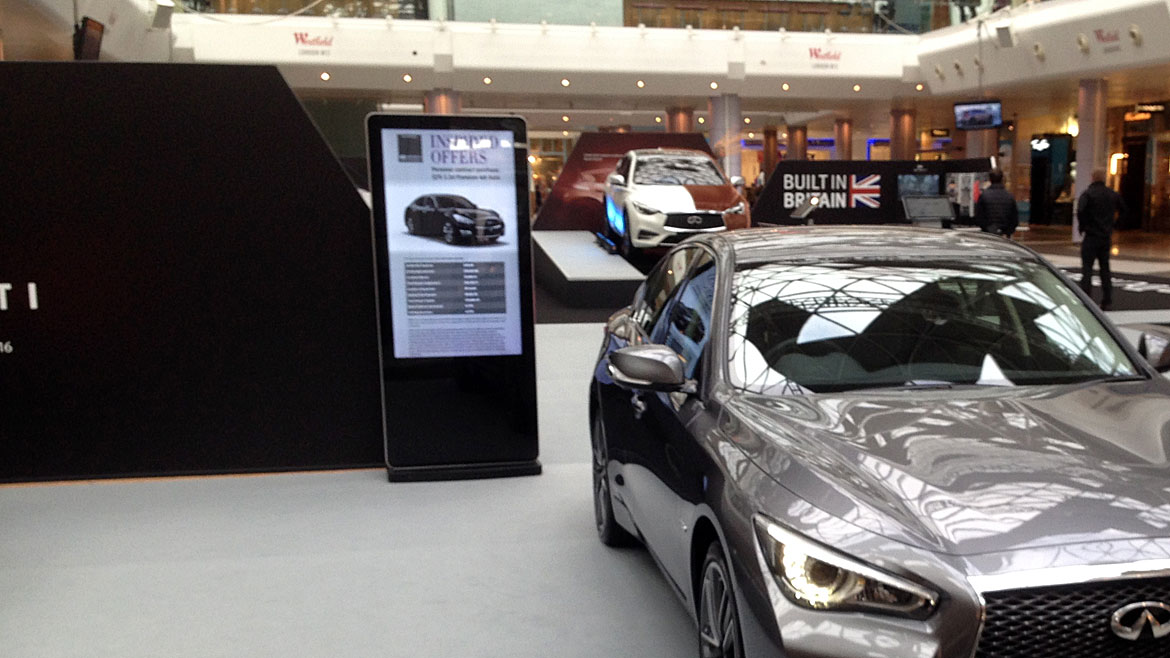 • Quality & Simplicity
W&Co offers a range of LG and Samsung digital signage screens which are made to the highest quality are secure and are also very simple to use.
• Warranty
All our stock digital screens offered come with a manufacturer's 3 year warranty, which includes our 'collect - repair - return' policy, for your total peace of mind.
• Bespoke Screens
Custom made digital signage screens can be created to various shapes, sizes and functionality to make your digital signage the most unique and eye catching advertising display possible.
• Built in Software
The digital screens come ready-to-go with all the necessary digital signage scheduling software built in for you to design your own playlists easily uploaded via LAN, Wi-Fi and 3G/4G networks or simply via a USB drive for a direct 'Plug & Play' option.
• Commercial Grade
The digital screens are commercial grade, which means they are more robust, secure and durable than normal TV screens. The colours remain sharp over time so that they can provide 24/7 digital advertising and public messaging without any fading or image ghosting.
What Digital Screen Sizes & Styles are there?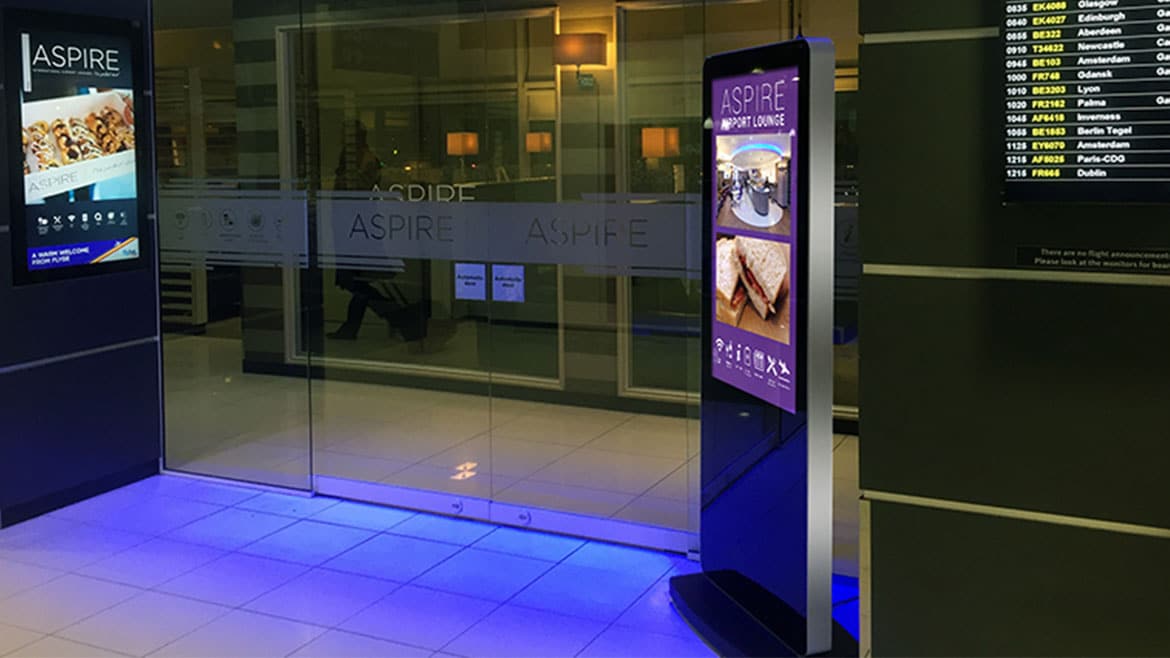 W&Co stocks a wide range of Samsung and LG digital signage screens and also offers bespoke digital signage to suit your requirements. These are all made to the highest quality, are secure and are also very simple to use.
• Wall Mounted Screens
Standard wall mounted digital screens are available from 19" up to 98". They can be positioned in portrait or landscape formats, or they can be grouped together to create huge video walls.
• Freestanding Screens
Stylish freestanding digital screens are available from 46" up to 82" and are the ideal solution for bringing your digital advertising or message closer to the consumer in open areas.
• Styles
As standard there is the stunning slimline options with rounded corners in black, however, bespoke digital signage can come with completely custom made metalwork housing the screen in various colours or with the addition of digitally printed vinyl wraps applied with logos and designs to match your brand.
Can I Rent Digital Screens?
We understand that investing in a digital signage solution that meets your needs can be a significant decision for any company and as a result of demand we now offer a variety of low cost monthly rental digital screen solutions from only £99 per month (based on a 36 month contract with 36 month warranty).
Our unique and wide range of rental packages includes wall mounted, freestanding digital screens and video walls.
These packages offer everything you need to get your screens up and running with no hidden costs – a professional digital screen hardware solution, connected to a network via Wi-Fi, 3G/4G or LAN to allow hassle free content management via our scalable cloud based server.
Our user friendly online Content Management System (CMS) includes all of the tools and templates necessary to produce dynamic digital content to attract and meet the customer right where and when it matters.
How do I get Content onto the Digital Screen?
• Plug & Play
Our high definition (HD) LCD and slim-line LED digital advertising screens use an uncomplicated Plug & Play system where your image and movie files are simply loaded to a USB drive and inserted into the back of the screen via a secure compartment. The data is loaded, the USB drive is removed and the screen will automatically loop the content.
• Networking
If you need to have a number of digital screens in various locations then we can offer screens with a network option so that you can update the content remotely via LAN, Wi-Fi and 3G/4G networks.
Is the Digital Signage Secure?
All of our commercial grade digital screens come without accessible buttons or controls. The USB ports are all contained within a secure lockable compartment. The digital screens can be securely fixed to a wall with a slim-line security wall mount bracket supplied.
What are the best locations for Digital Signage?
Digital signage screens are becoming more and more popular as they are ideal for advertising, promotions and informative messaging in a multitude of places. The optimum locations are generally considered to be where there is a captive audience, this is where a customer is waiting or browsing for a while, such as: within retail stores, marketing suites, shopping centres, restaurants, banks, museums, schools, hospital waiting areas, train stations, cinemas foyers, leisure centres, fast food outlets, airports terminals, hotels receptions and bars etc.
Please contact our friendly and helpful sales team for further information and advice regarding the best digital signage solution for your requirements.
What to do next?
Can't find what you're looking for? Please call us as we can find solutions to 99% of all printing, display, sign, feature lighting & digital signage enquiries.